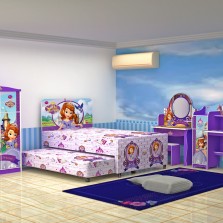 The Organizing Tips Small Room
1. The size of the room
Small children sometimes like to play and spend time in the room. In fact, the room not only be room for the little guy but the room for a few toys. Therefore, you also need to consider the vast room where they can rest and find a place to play in the room.
2. The color of the corresponding
Typically, young children love bright colors. For example, the girl child's room pink is synonymous with Barbie or Hello Kitty character. Make sure you also know and give color to suit their favorite color.
3. Furniture cheap
In contrast to our room, you do not need to give a luxurious furniture in the small room. Quite nice and funny as they like. In addition, accidental, small children could damage the furniture while playing.
4. Lighting Design
Sometimes, children also love to learn in the room rather than in a classroom that we prepared. Therefore, it is also important that you arrange the lighting bright for the small room. Also, make sure the room is not too dark so as not to interfere with the health of your child's eyes.
5. Hangers wall
One creative idea in arranging room for the little guy is giving him a wall hanger. Yup, to add a child's room decoration. Know his own right, a small child's room is identical to the rooms 'busy' for goods.
Source: www.vemale.com